There's no way to get around it—aging happens. And the first visible signs of aging usually pop up on your skin, such as fine lines, puffiness, and dark circles.
This happens because, as you age, your body produces less collagen, and your skin has been exposed to damaging UV rays and free radicals. Combined, these factors all cause your skin to start to appear saggy and less firm. But just because you can't stop aging, doesn't mean you can't slow down visible signs of it.
Foods that contribute to glowing, flawless skin
Just by adding more skin-healthy foods to your diet, you can help encourage your body to produce more collagen, fight sun damage, and reduce fine lines.
So we've rounded up the top 5 skin-boosting foods for firm, glowing skin.
1. Wild-caught salmon
Salmon is a fatty fish, but it's full of the good kind of fat that can help improve the appearance of your skin. Salmon is rich in moisturizing omega-3 fatty acids that also calm inflammation, which causes a breakdown in both collagen and elastin, two proteins essential for maintaining a youthful, firm complexion.
Salmon also has selenium, a mineral that helps protect your skin from damaging sun exposure. Not to mention that the vitamin D found in salmon can keep your bones and teeth healthy, too.
Overall, salmon is one of the best foods you can eat for your health, including skin health. Just make sure to eat wild-caught salmon, because farm-raised often has additives.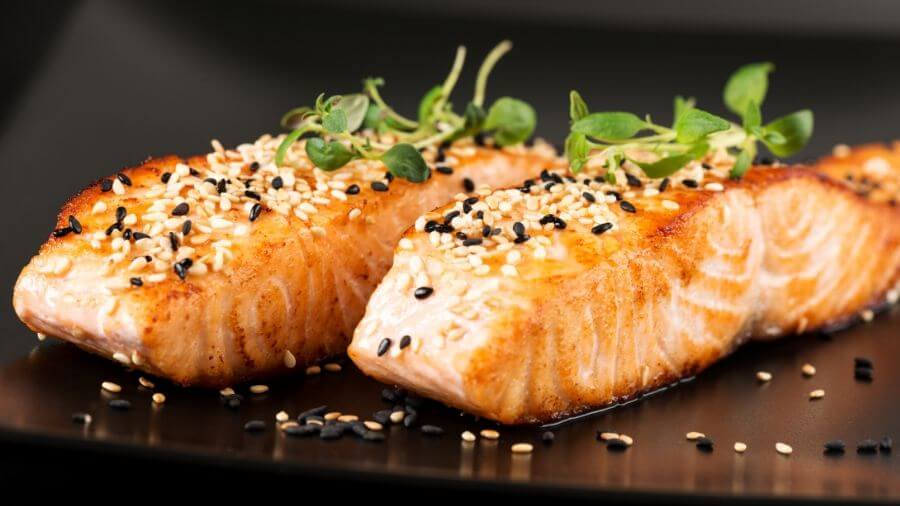 2. Green tea
Green tea is full of antioxidants called polyphenols, which are a powerful compound for skin health. That's because polyphenols, and specifically the potent kind found in green tea, can help protect and restore your skin from harsh UV rays and free radicals.
Too much sun exposure is one of the top culprits behind the appearance of fines lines, sagginess, and other signs of aging. So it's important to help give your body the tools it needs to fight off these harmful free radicals. Green tea is also a natural anti-inflammatory, so it can help reduce puffiness and gives your face a refreshed look.
Drinking green tea isn't the only way to achieve benefits to the skin. Applying green tea bags directly to the eyes shrinks blood vessels that cause puffiness and also reduces dark circles. A mask prepared with green tea leaves and honey can minimize fine lines and wrinkles, as well as the effects of premature aging.
3. Avocados
Adding avocados to your diet can really help boost your skin's health and give you a youthful glow. That's because avocados are packed with nourishing oils and vitamin E.
These healthy oils work to keep your skin hydrated and soft, which is vital for a flawless complexion. And vitamin E is a fat-soluble antioxidant that can help to protect your skin from UV damage and help to prevent inflammation. Together, these oils and vitamin E work in unison to combat skin damage and fine line.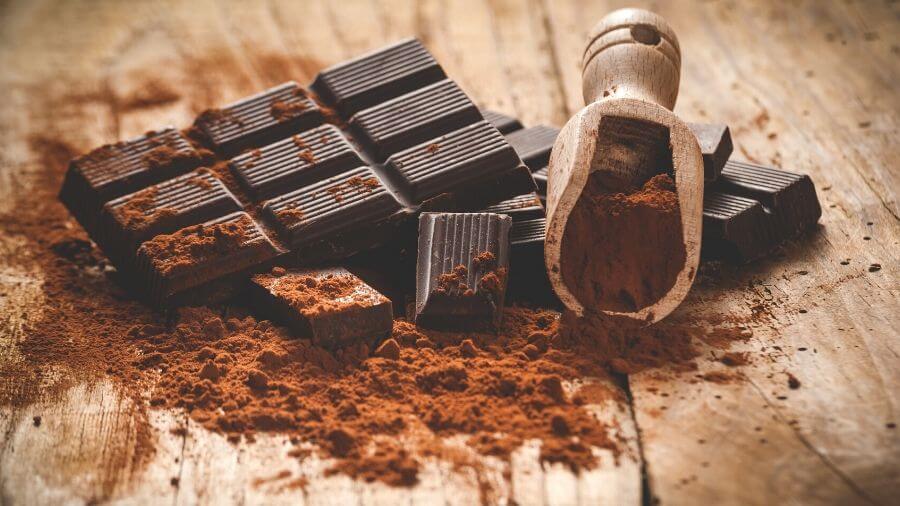 4. Dark chocolate
Dark chocolate is quite possibly one of the most delicious ways you can improve your skin and get a more youthful glow.
The flavonols found in dark chocolate can help protect against sun damage, improve blood flow to the skin, and increase skin hydration. Increased blood flow and hydration are two important components for a smoother, more luminous complexion.
Just make sure to eat dark chocolate that's at least 72% cocoa, otherwise, you'll be consuming more unhealthy sugars, and you'll miss out on some important health benefits.
5. Sweet potatoes
Sweet potatoes just got a whole lot sweeter because not only are they nutritious, but they can also help smooth out fine lines and wrinkles and reduce the appearance of sun damage.
Sweet potatoes are loaded with vitamin C. In fact, just one medium sweet potato has about 22.3 milligrams of vitamin C!
Vitamin C is a powerhouse when it comes to decreasing signs of aging and improving your skin's health because it stimulates the production of collagen in your body. Collagen is the compound that's known to make your complexion firm, plump, and glowing.
Protect your skin with moisture
A great skincare regimen, along with a healthy diet, can provide a perfect primer for protection and long term care.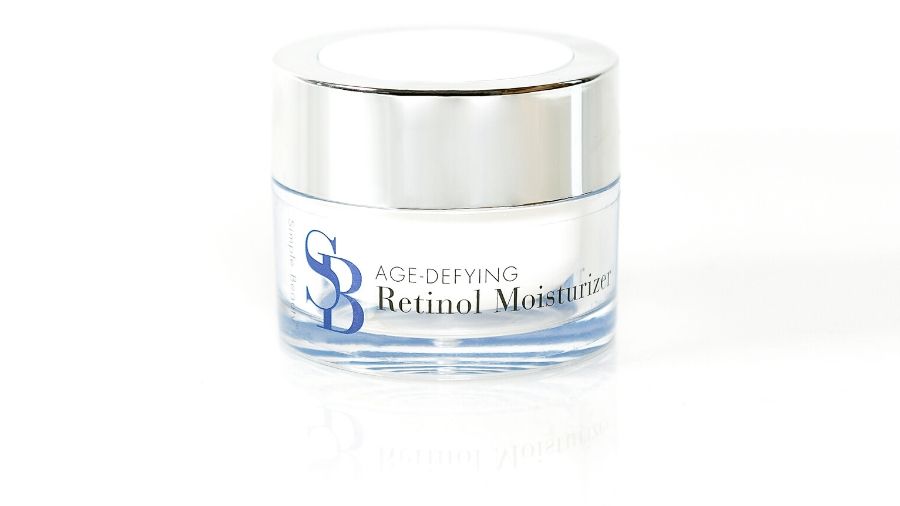 Simple Beauty's Age-Defying Retinol Moisturizer is designed to encourage and enhance collagen rejuvenation, which quickly acts to smoothen, plump, and refreshen skin. The naturally-derived ingredients help to stimulate youth-enhancing collagen production, and this is what can give your skin the appearance of reduced fine lines and wrinkles.
Adding this moisturizer to your daily skincare routine is an easy and straight-forward approach to skin protection that will give you phenomenal skin you can be proud of–at any age.
To put it simply
When it comes to fighting signs of aging on your skin and maintaining a youthful glow, eating the right foods is just as important as what products you use on your face.
After all, if you're filling your body with unhealthy skin-damaging foods, no skincare product can reverse those effects.