Have you heard that chocolate can make you look better? It's true, but before you pull out that secret stash of candy bars, the benefits don't come from eating it. At least, not this time around.
This time you're going to smear chocolate all over your face. That's right, your taste buds aren't the only part of your body that loves chocolate, your skin does, too.
Masks have become a favorite part of many beauty regimens, and no better way to celebrate National Chocolate Day this July 7th, than with a chocolate mask!
Why your skin loves chocolate
You've probably heard that dark chocolate is good for you and that having a little of it regularly can positively affect your health.
Chocolate masks are the new craze because it's been proven that some of its benefits can be absorbed into the skin. Let's look at what those benefits are and how your face will improve with a chocolate mask.
1. Full of nutrients
Chocolate was developed from the seed of the cocoa tree, and dark chocolate is one of the best natural sources of antioxidants available.
Chocolate also contains catechins, polyphenols and flavanols, part of the antioxidant mix that fights free radicals that can drastically age your skin. This wards off wrinkles and keeps your skin looking vibrant.
2. Sun protection
The flavanols in chocolate protect your skin UV light, which are those dangerous rays from the sun. They also improve the hydration level of your skin, which boosts blood flow.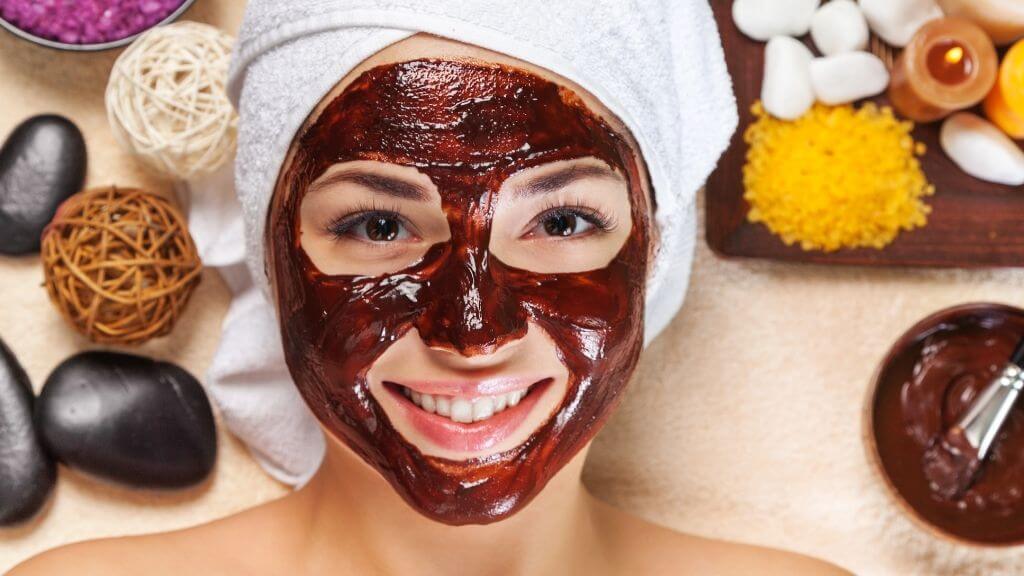 This gives you added protection to keep your skin looking youthful, free of sun damage, and can ward off skin cancer.
3. Combats stress
Dark chocolate helps your body fight stress, which can play a significant role in the breakdown of collagen and the development of wrinkles. By reducing stress hormones in the body, chocolate effectively decreases the negative effects of stress.
4. Soothes atopic dermatitis
If you suffer from atopic dermatitis or eczema, then chocolate may be your best friend. Cacao extract contains polyphenols that decrease inflammation and can cure other allergic reactions of the skin.
5. Good fats
Chocolate contains shea and cocoa butter, both of which do a great job in providing natural moisture to the skin, and they're anti-inflammatory to boot.
With all of these benefits, it's easy to see why all the top spas are now offering chocolate masks, and their clients are eating them up.
So how do you get these benefits without paying a spa price? The great news is it's easy to whip up a chocolate face mask at home, and we've got the perfect recipe for you.
DIY Chocolate Face Mask Recipe
We like this recipe because it's fairly easy to apply and rinse off. One note, because chocolate can stain, it's best to have some old towels nearby.
Ingredients:
2 bars dark chocolate (needs to be at least 70% cocoa)
2/3 cup milk
1 teaspoon of sea salt
3 tablespoon brown sugar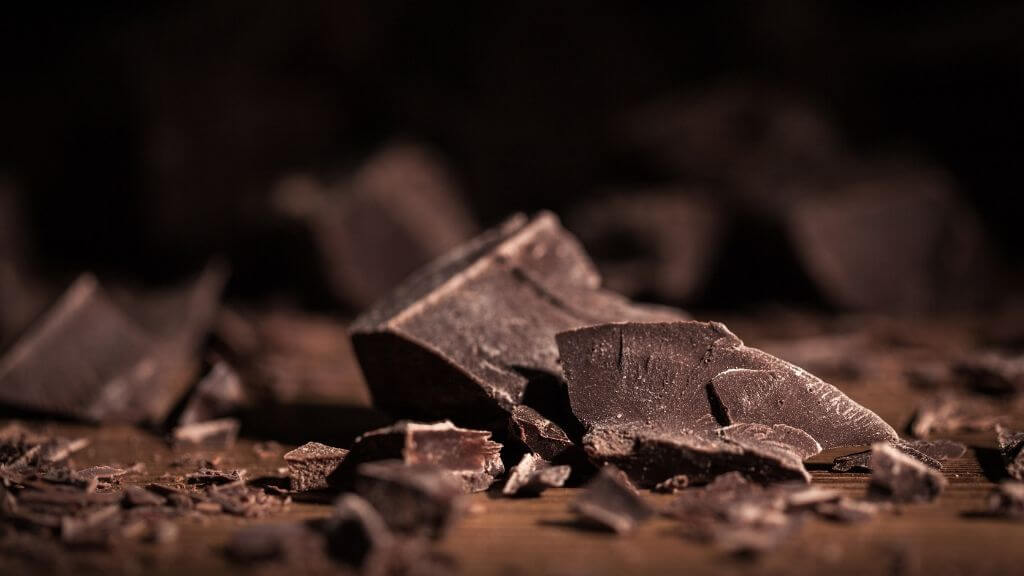 Directions:
1. Put the chocolate in a microwave bowl and set for 30 seconds. Then stir. Continue in 30-second intervals, stirring between each one. When it's almost all melted, take it out of the microwave and stir until the last pieces melt. This will help cool it a little bit, too.
2. Add the salt and sugar to the chocolate, and continue to mix until fully incorporated. Then add the milk and mix that in as well.
3. Let the chocolate cool, it can be a little bit warm to the touch, but make sure it's not so hot that it will burn your skin.
4. Apply the chocolate liberally to your face and neck, and then let it rest for 15-20 minutes. When you're done, rinse it off completely.
5. You can treat yourself to this amazing chocolate mask up to two times a week to get the most benefits and experience the rejuvenating effects.
To put it simply
Finally, you have a reason to indulge in your chocolate fantasies. Rather than eating the rich, delicious treat, you get to smear it on your face.
But no one says you can't have a little bite before you make the mask. In fact, you probably should because dark chocolate is loaded with antioxidants. You can make it a healthy part of your day, as long as you eat it in moderation.
Of course, moderation is off the table when you're making a chocolate face mask. Slather that mask thickly and soak up all of the healthy benefits that will make you look amazing and keep your skin healthy, moisturized, and youthful.
Make a chocolate mask a regular part of your beauty routine, and feel like you have luxurious spa-treated skin all the time.