Why not really get a laugh during World Laughter Day on May 3rd? Look aging skin in the face and give it a big, old-fashioned belly laugh.
Okay, so skin aging isn't typically a laughing matter, but if you try some of the following skincare tips, you might find that it is. And if you do, all the better because laughter can help fight the signs of aging.
DIY "Fountain of Youth" skincare tips
You can't make it to the spa for an incredible facial, but your skin needs a little something extra. That's okay because there are some fun and beneficial ways you can boost the youthfulness of your skin from the comfort of your own home.
1. Facial massage
One of the best things you can do for your face is to give yourself a facial massage.
A gentle massage of your face increases circulation, which rushes nutrient-rich blood to the skin to boost health and hydration. It also can reduce puffiness and wrinkles while lifting and firming, and like most massage, it's also a stress-reliever.
Keep the following tips in mind when giving yourself a face massage.
♦ Start with clean skin and clean hands
♦ Use a little face oil, so your fingers glide rather than drag across your skin
♦ Massage upward and outward
♦ Use firm, but not aggressive, pressure
♦ Move upward from neck to forehead
♦ Try incorporating a face roller into your massage to boost circulation

2. Try a yogurt mask
Plain yogurt is an accepted part of a healthy digestive regimen, so why smear it on your face? Well, it turns out that there are skincare benefits from yogurt as well.
One study discovered yogurt could improve the moisture, brightness, and elasticity of your skin. These are all signs of youthful and vibrant skin.
Mix this tasty treat with one of the following additives, and you've got an easy, at-home mask.
♦ Honey has nutrients and proteins that can prevent wrinkles and restore the outer layer of skin.
♦ Avocados are soothing and have skin-plumping fatty acids.
♦ Turmeric is a current trendy spice, and it has anti-inflammatory effects on your skin.
♦ Aloe vera soothes inflammation and can even heal scar tissue.
♦ Lemon adds anti-bacterial properties and lightens dark spots.
♦ Coffee reduces swelling and can shrink puffy eyes.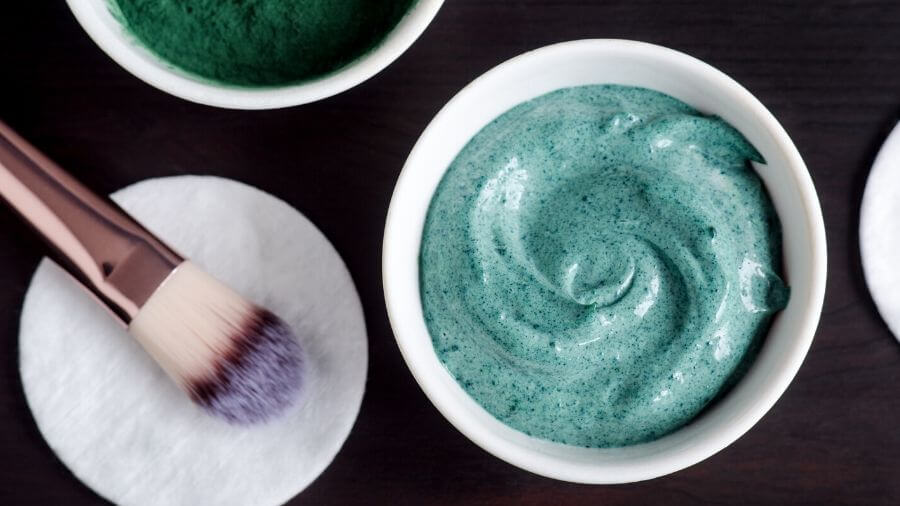 3. Sun protection
Sunscreen and sun protection should be a priority in your life—an everyday step you don't even think twice about doing. The great news is that you can go beyond slathering up with sunscreen for protection.
There are foods that add sun protection from the inside out. It's key to note that they will not replace sunscreen, but they can be an extra boost.
♦ Watermelon and tomatoes for their lycopene
♦ Nuts and seeds with omega-3 fatty acids
♦ Fish with omega 3-fatty acids
♦ Berries that are rich in antioxidants
♦ Beta carotene packed foods like carrots and leafy greens
♦ Green teas and other teas with flavanol
♦ Cauliflower contains histidine, which can help absorb UV radiation.
The more time you spend at home, the more you want to go outside. Make sure if you're spending extra time in the sun or you're out during peak hours that you apply sunscreen often. It's a great way to ward off the aging effects of the sun.
Simple Beauty Bundle
In addition to your at-home remedies, a great skincare regimen with all the right steps and designed to work together gives you skin that will make you smile. The Simple Beauty Bundle is a full, balanced regimen for skin with clinically-proven ingredients for long-lasting hydration, even complexion, brighter skin tone, and a restored youthful glow.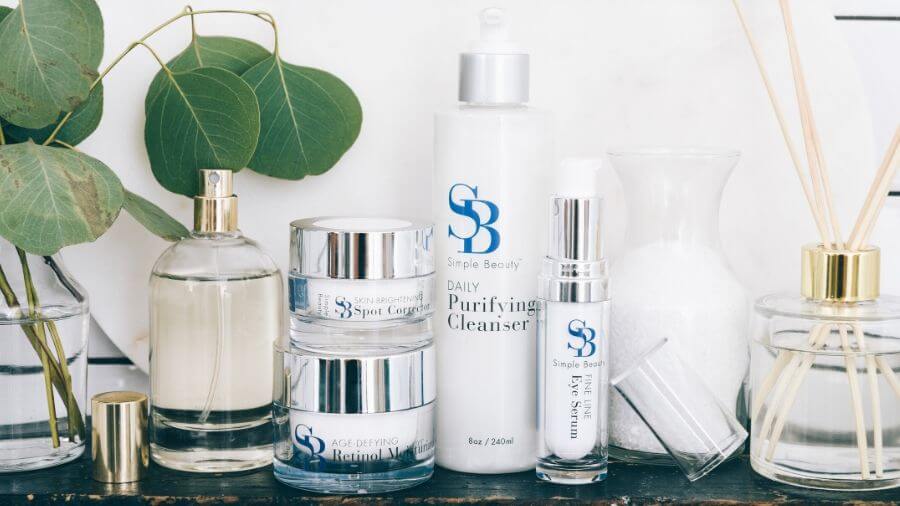 Four essential products come in the bundle to cleanse, combat wrinkles, brighten skin tone, and moisturize while stimulating youth-enhancing collagen production. Pairing this easy and straight-forward approach to skincare with some fun, yet effective, DIY solutions will give you phenomenal skin you can be proud of–at any age.
To put it simply
We all can benefit from having more laughter in our lives. Nothing makes that more evident than spending World Laughter Day stuck at home.
But you can make the most of this day by giving your skin a healthy dose of DIY care that turns back the hands of time. Why not spend your time wisely and focus on improving your health and recapturing your youthful glow? Simple facial massages, yogurt masks, and a sunscreen approach from the inside out give you a head start.
Round out your youth-based approach with that Simple Beauty Bundle to complete that pampered feeling. It's the perfect blend of at-home tips and science-backed care that adds radiance to your skin from within.