Aloe Vera, The Skin's Ancient Elixir
Cleopatra's Beauty Secret
As far back as 6,000 years ago, Egyptian queens Nefertiti and Cleopatra used the powerful aloe vera plant as part of their beauty regimens. The ancient Egyptians referred to aloe vera as the "Plant of Immortality" and according to legend, the Pharaoh kept aloe as an esteemed palace plant.
Aloe vera has had a longstanding health tradition throughout the world, from ancient Egypt and Greece to China and Japan. The clear gel in the leaves of this succulent plant continues to be used today, with an extensive range of benefits when applied topically.

Bursting with Benefits
The clear gel that seeps from the plant's triangular, fleshy leaves is 99 percent water with a potent blend of:
75 Vitamins1
8 Enzymes that reduce inflammation
Antioxidants to neutralize free radicals, including A, C, and E
Lignin, which allows the gel to cross into 7 skin layers
Saponins and salicylic acid with antiseptic, antiviral, and antimicrobial properties2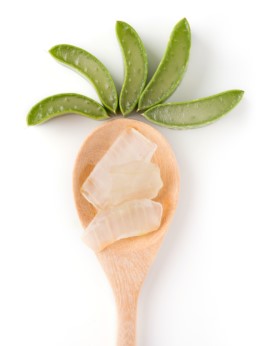 Fountain of Youth?
As you age, the outer layer of the skin thins. Changes in the skin's structure reduce the skin's elasticity and firmness, leading to wrinkles and fine lines. Cells produce less collagen, leading to wrinkles and sagging skin. These changes are accelerated by sun damage. Luckily, aloe vera can help address many of these issues.
Glucomannan and acemannan in aloe vera stimulate the production of fibroblast cells, which produce collagen. The botanical gel also contains enzymes that encourage the shedding of dead skin cells, which diminishes the appearance of fine lines and wrinkles.
Aloe vera is capable of penetrating and hydrating all 7 layers so skin is able to heal and regenerate throughout the day.
By stimulating the skin's ability to regenerate and deeply penetrating the skin with moisture, aloe vera is effective in fighting the effects of aging.3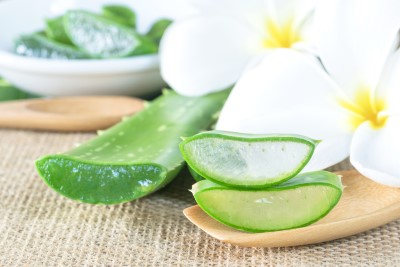 Aloe & The Sun
The gel from the aloe vera plant contains two potent chemicals that promote healing from sunburn. Polysaccharides stimulate movement of cells, which leads to faster regrowth of tissue, while glycoproteins control inflammation.3 These two compounds work together to boost the immune system. In addition, the plant's gel has antibacterial properties that can prevent infection. Aloe vera also works to hydrate burned skin, which will prevent peeling.
The most effective form of aloe vera is in pure gel, which can be applied directly to the affected areas of your skin. If you choose to use an over-the-counter ointment, lotion, or cream, avoid products with petroleum, benzocaine, or lidocaine. Petroleum actually traps heat in the skin, while benzocaine and lidocaine can be irritants.
Apply aloe vera gel by gently rubbing a generous amount of gel over the affected area, 2 to 3 times each day until the burn is no longer uncomfortable. The sooner you begin to use aloe vera on your sunburn, the faster it will heal.

The Bottom Line
A respected ingredient used since ancient Egyptian times, aloe vera is known for its extensive healing properties, including its ability to address skin aging due to physical aging and sun damage.
In formulating Age-Defying Retinol Moisturizer, Simple Beauty included clinically proven aloe vera extract and other natural botanicals. This legendary ingredient replenishes collagen, elastin, and moisture lost due to aging, while encouraging the skin to slough away dead cells, minimizing the appearance of fine lines and wrinkles.
With consistent use, Age Defying Retinol Moisturizer can help you achieve a healthy, vital glow, blending the best of nature with cutting edge science for the most effective results.
1 Surjushe, A., Vasani, R., & Saple, D. G. (2008). ALOE VERA: A SHORT REVIEW. Indian Journal of Dermatology, 53(4), 163–166. http://doi.org/10.4103/0019-5154.44785
2 López, A.; de Tangil, M.S.; Vega-Orellana, O.; Ramírez, A.S.; Rico, M. Phenolic Constituents, Antioxidant and Preliminary Antimycoplasmic Activities of Leaf Skin and Flowers of Aloe vera (L.) Burm. f. (syn. A. barbadensisMill.) from the Canary Islands (Spain). Molecules 2013, 18, 4942-4954.
3 Chithra R Sajithlal GB, Chandrakasan G. Influence of aloe vera on collagen characteristics in healing dermal wounds in rats. Mol Cell Biochem. 1998;181:71–6.