How to Use Pumpkin For More Youthful Skin

Autumn is here and that means it's time to indulge in all things pumpkin! This fall, we encourage you to do more with pumpkins than just carve jack-o-lanterns and let them rot on your front doorstep.
Native to North America, the pumpkin is a gourd-like squash considered a fruit of the pumpkin plant. The pumpkin and its seeds are rich in antioxidants, vitamins, and minerals. So, the pie you may be eating during the holiday season can actually be healthy…
It's a stretch, we know, but it helps us prioritize our plates come Thanksgiving.
We're thinking dessert first!
Other than pie, here are a couple more ways to use up your pumpkin before the season is over—seeds and all.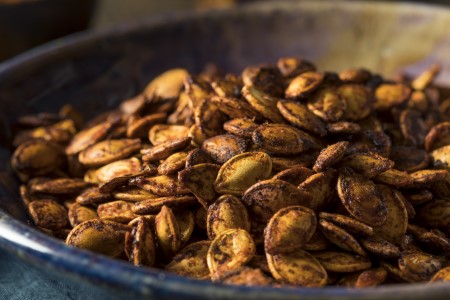 The Seed
This is the perfect no-waste recipe for those who have never known what to do with the scooped out seeds. Instead of tossing them in the trash bin, toss them in your oven!
Pumpkin seeds, aka pepitas, are rich in monounsaturated fats, magnesium and zinc. Zinc is a mineral important for cell metabolism. It ensures that your cells, including the ones on your face, maintain collagen—the protein responsible for the youthful elasticity and bounce in your skin.
As they are also a good source of tryptophan—an amino acid that's important in producing hormones called serotonin—snacking on a handful of pepitas every night may brighten your mood and help you get in more beauty sleep, too.
Our Recipe: Sweet & Salty
Transforming pepitas into a crunchy, skin-healthy snack is quick and easy.
Take 2 ½ cups of pumpkin seeds (cleaned of pulp)
Coat with 2 tbsp of olive oil.
Sprinkle 2 tbsp of sugar, 1 ½ tbsp pumpkin spice, and 1 tsp salt.
Bake at 400℉ for 12-15 min.
Let cool and enjoy!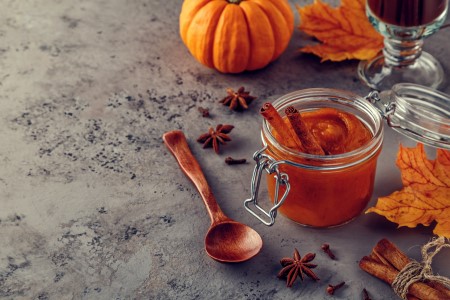 The Flesh
There are a few ways to enjoy the flesh of pumpkin and one includes, yes, making it into pumpkin pie!
But besides consuming it, pumpkin can also be applied topically in various forms that include scrubs, masks, and creams.
Pumpkin is full of vitamin C, carotenoids, minerals, and B vitamins. Including it as a key ingredient in your facials can help brighten dull skin, promote skin renewal, improve skin tone and elasticity, and even reverse UV damage—a complete fall and winter complexion makeover.
Our Recipe: Scrub a dub dub
We like to add a little coffee to our all-natural and gentle pumpkin sugar scrub. The addition of caffeine, via coffee grounds, will boost blood circulation and promote glowing skin.
Take 1/4 cup canned organic pumpkin.
Sprinkle 2 tbsp brown sugar, 2 tbsp ground coffee, and 1 tsp freshly grated ginger.
Combine until smooth.
Before applying mixture to face, drape warm wet towel over face for a few minutes to open up pores.
Apply scrub to the face in a circular motion.
Leave it on for about 5 minutes, then wash off with warm water or gently wipe off mixture with a warm, wet towel.
Splash face with cool water to lock pores.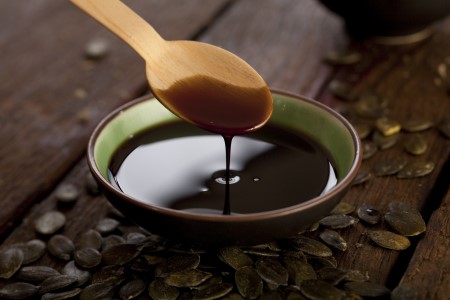 The Oil
Pumpkin oil has consistently been used as an anti-aging ingredient in skin care—great for:
Firming skin—the natural nutrients found in pumpkin oil, particularly vitamin c and zinc, help to firm and tighten.
Controlling oil production—essential fatty acids sink deep into skin providing moisture without greasiness. These moisturizers help balance oil and keep skin smooth and soft.
Soothing redness and irritation—all the natural properties found in pumpkin oil make it ideal for sensitive skin, so slather it on!
Our Recipe: Just Buy It
Unless you have a commercial oil extractor at home, look to a natural foods store or search online to get a bottle. There are not many ingredients that are as multifaceted as pumpkin oil. We recommend using a couple drops in your moisturizer, body lotion, foot creams, and hair conditioner.
Bottom Line
There's more than one way to carve a pumpkin! The transition from the summer heat to the chillier fall can take a toll on your skin. Skip toxic ingredients and keep things simple this season. We hope you're inspired to eat, drink, and soak up this nutrient rich ingredient as much as you can. I think you have a pumpkin-themed spa day to plan.
READ NEXT >>> Top 5 Foods That Make You Look Tired